Richmond Battlefields Association Membership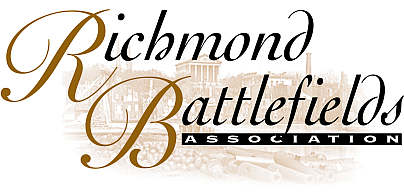 Our mission is to protect and preserve the remaining Civil War sites and battlefields surrounding Richmond, Virignia. Become a valuable member of our preservation effort by joining the Richmond Battlefields Association.
All members receive our newsletter, On Richmond's Front Line, highlighting association news, preservation progress reports, and original articles on the history of Civil War Richmond. Members are invited to our Annual Meeting and Tour, which in the past has featured unique venues with renowned battlefield guides. Help preserve our nation's history and heritage as a proud member of the Richmond Battlefields Association.
[Retrieve a Membership Application]
Membership Categories
$35 Annual Member
$100 Active Member
$250 Sustaining Member
$500 Patron
$1000 Benefactor

"There is probably no more bloody ground in this country than around Richmond. Land values are going up and it's a difficult challenge. It's going to be draining and exhausting. But we have to fight this battle. These fields are so vital to the history of the United States. If we lose them it's an incalculable loss to our history. - Brian Pohanka
The Richmond Battlefields Association is a 501(c)(3) non-profit organization. Your contributions may be deductible as provided in 26 USC Sec 170.