Ware Bottom Church
Preservation success in Chesterfield County: This historic site along the Bermuda Hundred front was donated to the Richmond Battlefields Association by a local company in 2009. The tract is notable as the site of Ware Bottom Church, for which the battle was named. The church, one of the oldest in Virginia, was destroyed during the fighting here in 1864. This Civil War site represents the first preservation success by RBA in Chesterfield County.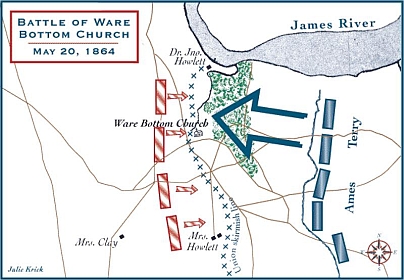 May 20, 1864
After severe fighting at Proctor's Creek blunted the Union offensive against Richmond, Maj. Gen. Benjamin Butler's Army of the James withdrew to the Bermuda Hundred peninsula. Within days, Gen. P.G.T. Beauregard sent 8 Confederate brigades to drive in Butler's advance picket lines. Nearly 10,000 soldiers clashed in the vicinity of Ware Bottom Church. Confederate gains resulted in a shorter defensive line, allowing Beauregard to send Robert Hoke's entire division to reinforce Lee's army at Cold Harbor. At day's end the severe fightling left over 1,400 men either dead or wounded.
The Howlett Line
The Confederates constructed strong defensive works between the James and Appomatox rivers, effectively pinning the Federals in the Bermuda Hundred peninsula. "As in a bottle strongly corked" noted President Lincoln. In June, Grant's movement against Petersburg caused Beauregard to abandon the Bermuda Hundred line in order to meet the crisis there. For a short while, the Ware Bottom Church area once again lay behind Union lines.
June 16, 1864
Lee's army, belatedly racing toward Petersburg, paused long enough to attack Butler yet again in the Ware Bottom Church area. Men of George Pickett's Confederate division retook the abandoned ground on June 16 and reestablished the Confederate line across the peninsula. During that brief episode the 11th Maine Infantry literally fought in the yard of the church.
The historic church stood until June 18, 1864, when it became an unbearable source of annoyance for the artillerists of Parker's Virginia Battery (a NPS site), only a few hundred yards west of the church. Federal sharpshooters had been using the church to harass the gunners. Three volunteers from the battery crawled out through their own picket lines and daringly ignited a fire inside the church. The flames blossomed and the frame structure burned to the ground. For the next ten months the site stood between the lines, part of the extensive "no man's land" that divided the contending forces.