Gaines' Mill
UPDATE: Saved for Future Generations: In 2016, the Richmond National Battlefield Park added these 3 additional acres to the park's holdings at Gaines' Mill, thus ensuring this hallowed ground will be protected in perpetuity.
First Battlefield Acquisition In Over 80 years: Until recently, preservation efforts at Gaines' Mill have been futile. Early in 2011, Richmond Battlefields Association purchased a key parcel of land on the north bank of Boatswain Creek. This represents the first battlefield acquisition since the 1920's, when Douglas Southall Freeman and others in the Richmond Battlefield Park Corporation secured the 60 acres which belong to the Richmond National Battlefield Park. While most of the battlefield is unprotected, it remains in good condition. There is reason to hope that our initial success will gain momentum and spark another triumph for battlefield preservation. Recently,the Civil War Trust announced a major land deal adjacent to RBA's Gaines' Mill property.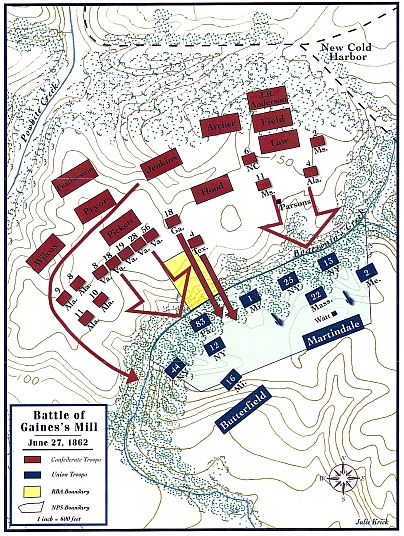 June 27, 1862
The Union V Corps of Gen. Fitz John-Porter was isolated on the north bank of the Chickahominy River. Gen. Robert E. Lee, seeking to drive the Federals into the river, massed 60,000 Confederates. Several of Lee's brigades attacked over the RBA site, trying to cross Boatswain Creek. James J. Archer's brigade tried and failed, followed by Joseph R. Anderson's men, and then Charles Field's Virginia brigade. Federal infantry from John Martindale's brigade broke up the disjointed attacks, inflicting severe casualties.
At dusk, Lee pushed his last fresh divisions against the Union left, unleashing 32,000 men in a powerful assault (larger than Pickett's Charge). On the site preserved by RBA, Gen. John Bell Hood led the determined charge that made famous his Texas Brigade. Crashing across Boatswain Creek, the Confederates broke the Union line and advanced over the Watt house plateau. Only approaching darkness diverted complete disaster for Porter's V Corps.
The Battle of Gaines' Mill was the the bloodiest of the Seven Days' battles. Lee's first major victory resulted in over 15,000 casualties. The defeat convinced Union Gen. George B. McClellan to abandon his "On to Richmond" campaign. That night, the Federals began a long and costly retreat to the James River.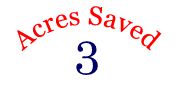 Above: The Watt House farm lane on the Gaines' Mill Battlefield.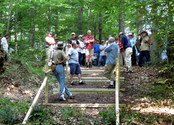 At RBA's annual meeting, historian R.E.L. Krick led members on a tour of the newly acquired property that they helped save.
The RBA tour followed in the footsteps of Hood's famed Texas Brigade, as they charged down the slope and splashed across Boatswain Creek. Participants took advantage of the newly constructed "Brockenbrough's Bridge" (June 2011).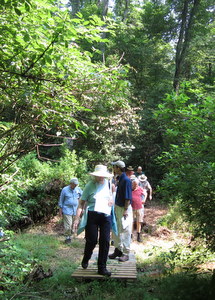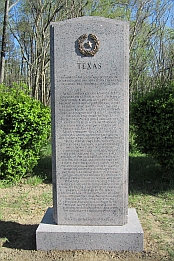 Gaines' Mill Battlefield Texas monument was erected on land saved by RBA (May 2012).